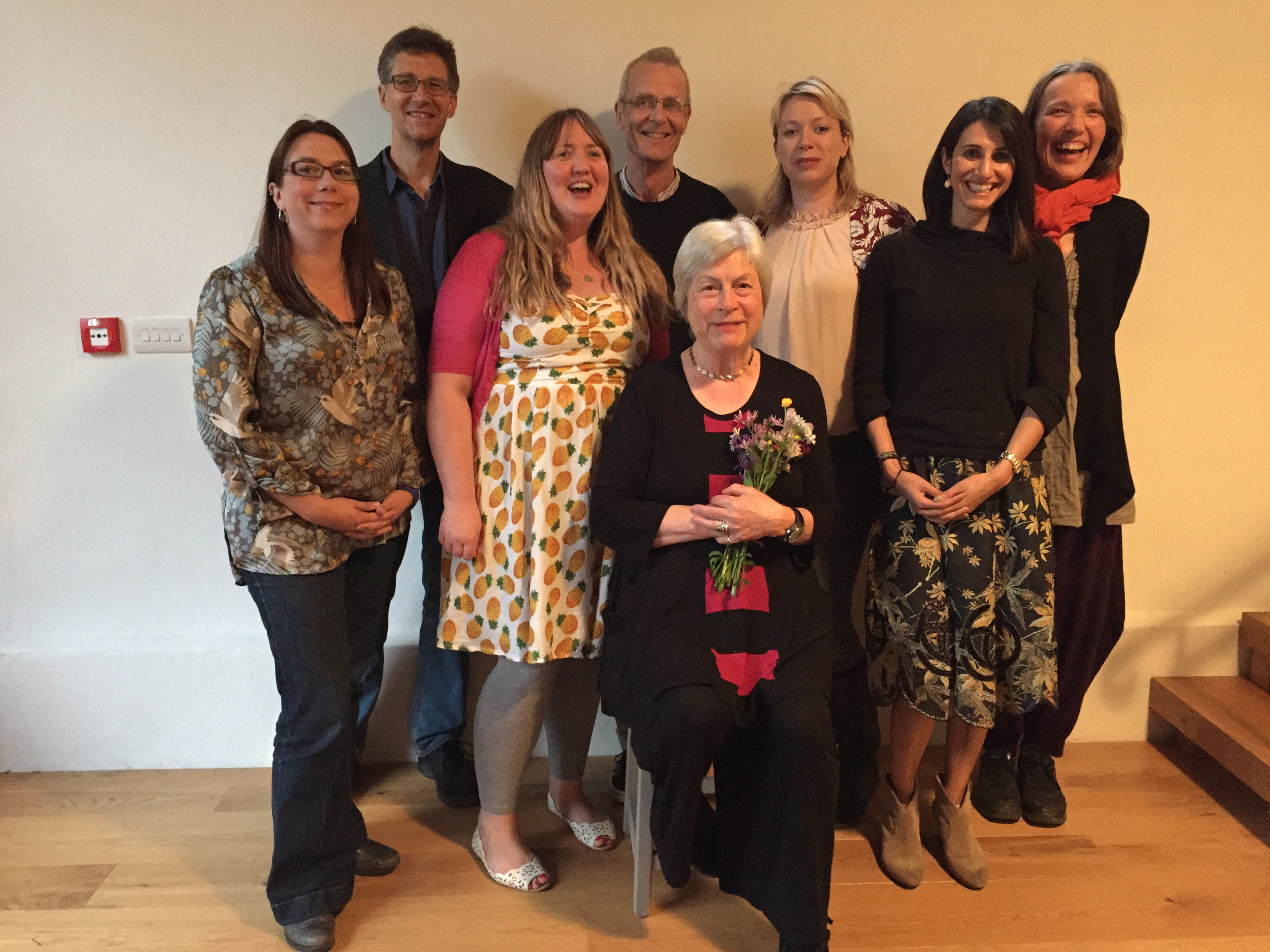 I found out today that Kristin Linklater, world-renowned teacher of voice production, had very recently passed away. I felt incredibly sad about it because being taught by Kristin was a life-changing experience. I went from being an anxious reader to a confident one, thanks to Kristin.
In 2015 I was awarded a place on the voice coaching course organised by the Ledbury Poetry festival, just prior to the festival itself taking place. It was with a number of other poets, including Dorothy Lehane, Amy Key, Josh Ekroy, and Mona Arshi, and I was very grateful to be selected. I was also nervous, as I didn't know what it would be like or what I would be doing.
It was at a beautiful place called Hellens Manor, which was like walking into a daydream fairy tale.
Hellens Manor is an ancient family home dating back to the C11th. The course took place in its "recently refurbished Georgian Stables which sit within the landscape of lawns, meadow and paddocks. The rare 17th century octagonal dovecot, a physic garden, yew labyrinth, herb and kitchen gardens, woodlands and ponds are delight to the eye and nourishment for one's spirit."
We were surrounded by orchards and fields. It was so pretty; every view was nature showing off. We were staying in the lovely converted stables, and our lessons were in another large barn with huge timber beams. We were given delicious food, comfortable beds. It was peaceful, with lots of time to talk and enjoy each other's company. The first night passed quickly. We met Kristin, who radiated energy and charisma, and her assistant Françoise Walot, who was equally charming and encouraging. Kristin reminded me of a Shakespeare quote from A Midsummer Night's Dream, as she was small and elegant, but had a fire inside her with her witty quips and powerful anecdotes: Though she be but little she is fierce.
Then the next day we began and it was like being dropped into a fire for a nervous person. I had always hated being looked at or being centre of attention, even though I was interested in acting and performing. Quite a problem for a poet who wanted to be able to read her work well. The exercises which included thinking about opening the body and where the breath was coming from. We were taught that we should be falling in love with our breathing and our voice.
Loving my voice was an interesting part of the psychological journey, as I had often been fearful my voice wasn't very good…even annoying. I also felt panicked so I would breathe rapidly and my voice would feel a bit like an enemy not a friend. At first, the exercises gave me feelings of excruciating self-conscious discomfort.
The first night I sat outside in the dark, with bats swooping above and the smell of half-asleep flowers in the air, and thought I might leave. I was scared to do this journey. However, with the support of my new poet friends I found the courage to go back into the barn the next day and do the exercises Kristin was setting. She was strong, confronting and took no nonsense about being scared, which was difficult for me but it was just what I needed. Kristin told me don't be afraid, you can do this, you totally have the ability to learn this.
We had to memorise a poem and read it to each other, using the abilities we had learnt. It was a joyous occasion to hear my fellow poets all read so brilliantly, with such strong voices. A joy I won't forget. We all looked to Kristin with thankful faces, and she radiated a calm feeling, as if to say 'of course, I told you that you could do it.' She was amazing. She gave us all a gift of confidence. I felt healed in many ways, when I thought about my relationship with my breathing, my anxiety and my confidence. The time spent with my fellow poets, particularly Mona, Dorothy and Amy who spent so long talking to me and supporting me in that beautiful place, was very emotional and I will always cherish it.
I'm thankful to the team at Ledbury Poetry Festival for giving me the chance to meet Kristin and so thankful to her for improving my speaking skills. She was an amazing person.

"Kristin Linklater is one of the most recognised names in the field of voice production for actors having published two leading textbooks: Freeing the Natural Voice: Imagery and Art in the Practice of Voice and Language (1976; revised edition 2006) Freeing Shakespeare's Voice: The Actor's Guide to Talking the Text (1992)."
"Get to know your voice – it's strong, it's resilient, it's expressive, it's you…" —Kristin Linklater